A good holster for a Kahr CT380 can be hard to find.  However, we've found a couple of solutions and we'll be giving them all away!
If you've read some of our past holster reviews, it will come as no surprise that I'm a fan of the Kahr Arms CW series.  I think they offer all of the important bits of the more expensive Kahrs, but at a lower price (about half the price of their mid-range lines).  They also have one of the nicest DA triggers I've experienced.  Last, but not of least importance, they are extremely lightweight.  A CW9 with tritium front sight is one of my favorite, lightweight carry guns.  Of course, there are times when even a CW9 is not light enough…Which brings us to the CT380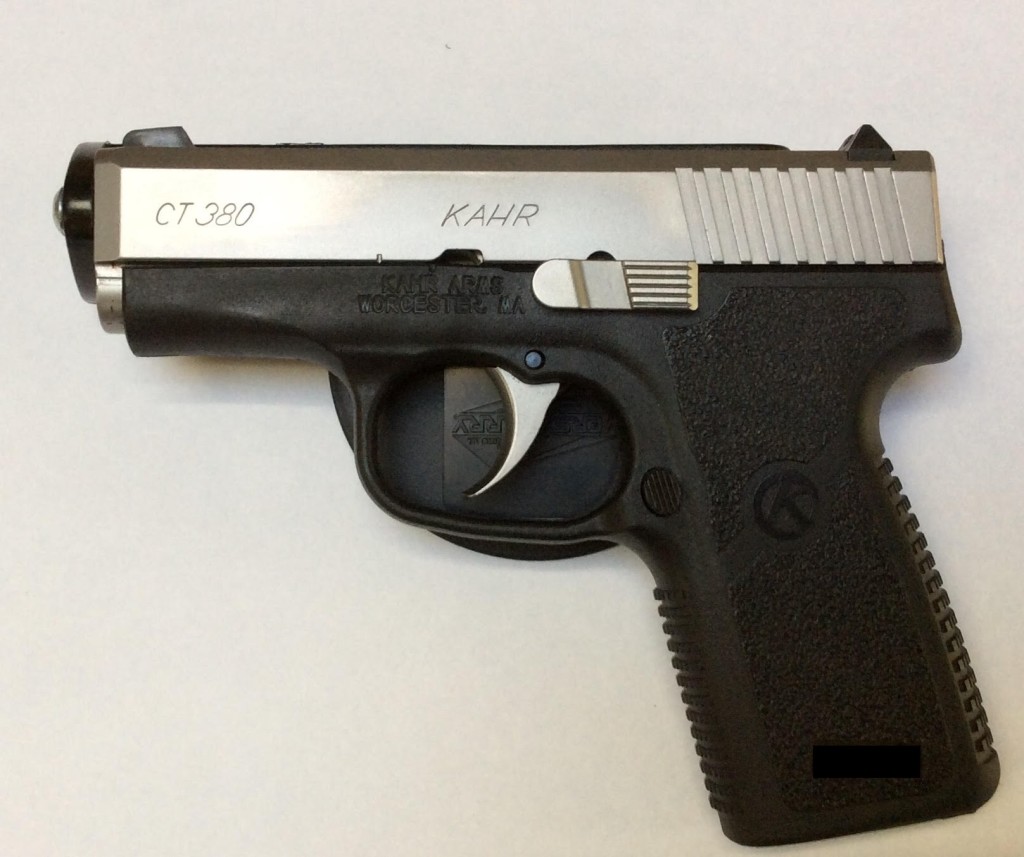 This year, I took a summer vacation that brought me from Detroit to Boston, then down to Roanoke, VA, Savannah, GA, Tampa, FL, and back to Michigan.   Before I left, I went through my carry gun collection looking for something that would travel well and be easy to carry wearing summer shorts, maybe even a pair of swim trunks.  Savannah is known to be hot and sticky in the summer (and lived up to its reputation).  My Ruger LCP fit the weight requirement, but I keep a side mounted laser on it.  That precludes a lot of IWB carry holsters and makes it better suited for a pocket.  Also, I think the LCP is poorly suited for IWB, because it can be tough to get a good grip on it with most holsters (with the exception of a little Fobus that fit the LCP before I put a laser on it).  Most of the LCP holsters carry low on the beltline and it can be tricky to get your fingers around the little .380.  Opinions vary (partly based on how small or sticky your fingers are) and you may be fine with it.  My S&W Airlite .357 J frame also met the weight requirement, but comes in a little "thick" with a performance tee.  Plus, given the time of year, those nice wood grips were going to be exposed to a lot of sweat.  Nothing I had was a perfect fit.  Time to go shopping!  I mean, I NEEDED something well suited to the situation, right??  Perusing the lighter 9s and 380s on CTD (cheaperthandirt.com), I came across a Kahr CT380 and decided to try one out.  $319 delivered to my local FFL dealer, plus a $20 transfer fee.  For those of you that just want to read about the gun, go ahead and skip to the bottom, I'll wait here.
I shook out the CT380 with 300 rounds of Blazer FMJ, about 100 rounds of assorted JHP and FMJ I had in a box (some contacted water and were relagated to the "range only" bucket), and then ran 100 rounds of my favorite carry ammo through it.  In those 500 rounds, I didn't see a single failure.  I stripped it down, cleaned and lubed (oil for my carry guns) the contact points and then looked through my drawer of holsters for something that worked.  Unfortunately, I found out very quickly that the narrow slide means the little Kahr moved around too much in my "compact 9/40" holsters and the slide was too long for my LCP pocket holsters.  Plus, I wanted an option to carry IWB, preferably with something I could switch to cross-draw, while driving.  So I went on a hunt and what I found was…there are very few holsters made specifically for the Kahr CT 380.  There are a couple on the Kahr site, but they carry a hefty premium and nothing really fit how I wanted to carry.
This sent me on a hunt for some holster options that would fit the following "vacation" situations:
IWB with a wet swim suit (no, I don't swim with my carry guns, but sometimes you are coming in off the beach and want to go somewhere without changing)
IWB or AIWB in a pair of shorts and a thin performance tee
Cross Draw, for driving
I came up with 3 options in five sizes, 4 of which I'll be giving away in the next week, to four lucky subscribers.
Option 1: Sticky Holster for the Kahr CT380
Given the need for "wet swimsuit carry", I first looked for something that would be both moisture resistant AND protect the gun from moisture.  I settled on Sticky brand holsters, which work similar to a Remora (held firm by friction), but have a softer feel.  Given that this would be against my skin, the Sticky is preferable to the Remora, which has a clammy feel and a texture that bites into your skin.  Note that this is irrelevant for usual IWB carry (where there are a pair of undies between you and the holster) and our affection for the Sticky Holster does not mean we are giving up on Remora.  They both have a place and I think the Remora has a long track record going for it.  We'll have to wait and see if the Sticky is as durable as a Remora.
I picked up the following two holsters from Sticky Holster:
Both can be found on Amazon.com, here: SM-2  SM-3
The SM-2 and SM-3 fit similar sized guns.  Both have the width to carry a thin .380 auto and the depth to put the trigger INSIDE the holster.  However, in my opinion, the SM-3 is better suited for the Kahr CT380 (see below).
The SM-2 has a sewn in section around the trigger guard which works perfectly with my LCP, but in my opinion would be too snug for pocket carrying the Kahr CT380.  However, it works great IWB on the CT and is fully water resistant.
Both holsters have a sticky texture (hence the name) which grabs your skin and your garment.  Putting both in the waistband of my swimsuit (no belt), each stayed in place even while walking or jumping up and down.  I could probably put a gif here, of me jumping up and down in my bathing suit, but I won't punish you!  Suffice it to say that the stickiness is enough to hold the weight of either the Kahr CT380, or my Ruger LCP.  I'm willing to bet that it sticks well enough to use with sweatpants, too.
The SM-3 does not have the sewn in section around the trigger guard.  This leaves the holster loose enough for pocket carry.  The SM-3 also works for IWB.  So, unless you are ONLY carrying IWB, the SM-3 is a better option for the CT380, giving you two carry choices in one.
Although the Sticky Holster holds firm on your skin, it never feels clammy.  Also, the material is meant to keep it from sliding against your skin.  If you pull it away from your skin, it does not adhere but remains easy to pull away.  There is no actual adhesive on the holster–it's just made of something weirdly sticky.  If you've ever used a Remora brand holster, you are familiar with the concept of the Sticky Holster.  However, the Sticky can't really be called a knock off of the Remora, since the material they use is different and in my opinion, gives it a unique feel.  You can learn more about the "Sticky Holsters" in our Ruger LCP Custom post.  The Sticky Holsters turned out to work very well with both the Ruger LCP and the Kahr CT380.
Option 2: VersaCarry Holsters for the Kahr CT380:
The VersaCarrys (VersaCarries?) aren't really holsters, but a clever, minimalist bracket system that puts a plastic rod up the barrel, holding the gun in place.  When you draw, the rod slides out of the barrel and the bracket stays in place.  The downside is that you have to (should) remove the Versa Carry to re-holster.  But, there's really nothing else that compares to it for the "minimalist" that can still be called a holster.  These are the latest style VersaCarry units and include a trigger guard (the originals did not include any guarding).  I'm not sure the guard is really required with a long heavy DA, but we'll avoid an argument over that one and err on the side of caution by installing them.  You could leave the guards off, if you choose.  It's certainly no more dangerous than sticking a gun in your waistband (which I don't recommend, but seems to work for many a crook that has lived at least long enough to be incarcerated).
As purchased, these two VersaCarry units are:
The latter is designed for a larger hand gun, but you'll see how we can use that to our advantage with the smaller Kahr.  Both were available on Amazon.com at the publish date of this post.
You can see all of the other VersaCarry options at http://www.versacarry.com/ (no, we are not sponsored in any way by VersaCarry).  You can even find one that will fit even a 1911, however, I find them better suited to a pistol without a safety.  That nice 1911 safety is going to dig into you at some point, if you don't have a wrap around holster.
The VersaCarry loop fits around your belt, with all the other parts of the bracket remaining inside the waistband (IWB).  It works well to conceal the pistol at the four o' clock position, or AIWB.
I purchased both a 9mm version and a .380 version of these holsters.  As you may already know, the bullet and barrel diameters are similar and so VersaCarry holsters for one caliber will also fit the other.  The main difference is where the trigger guard and belt loop sit, relative to the gun.
Option 3: Braids Kahr P380 Holster–Reworked for the CT380
Last, I wanted to find something a little more conventional that would serve while driving and be my standard carry holster when I got home.  I went looking for something similar to the Braids Holster I found for my Sig P290.  Unfortunately, Braids did not have anything that was labeled specifically for a CT380.  So, I went on the Kahr site and compared dimensions.  I came to the conclusion that the Braids Holster for the Kahr P380 should be pretty close and ordered one.  Hey, if it doesn't fit, I can go buy a P380!  I ordered the following from Braids:
Kahr P380 & CW380 IWB and Pocket $29.00 +$5 shipping
The CT380 has a slightly longer slide and barrel than the P380 and so, a little modification of the Braids Holster was needed.  You can read more about how we got a perfect fit with the braids in our last post.
I've reviewed the Braids holsters many times before.  For this model I will say that the combination of a belt clip and pocket "tab" give you one of the most versatile arrangements you can find.  If you can only bring one holster with you, this one give the option of strong side IWB, appendix carry (AIWB), cross draw (for driving) and pocket carry.  The tab under the trigger guard serves the purpose of catching in the pocket, so you can draw the gun without the holster coming out with it.  Works like a charm in a front pants pocket, or an inside the jacket pocket (be it a sport jacket or a Carhartt Detroit Jacket).
So there you have three alternatives to the holsters sold on the Kahr Arms website.  My Apologies for the pictures that came out a little blurry.  I didn't notice until I had uploaded the photos and did not want to delay the next holster giveaway any longer.
Read on for some Kahr gun porn and info about the giveaways!
–Hank
Gun Porn; The Kahr CT380
As previously mentioned, I love Kahrs.  That doesn't mean I worship the founder or support the Moon's weird world views, I just like the product.  I'll leave the politics out of this one.  Kahrs are light, slim, and from my experience, flawless in function.  I think the company suggests a 300 round break-in period, but I've never had an issue past the first few rounds.  However, a minimum of 300 rounds of your carry ammo should go through EVERYTHING you plan to carry.  My personal "pistol break-in method" is to make the first trip to the range before I clean and lube the gun.  I figure (right or wrong) that this gives a better chance of burnishing off the high spots than if you get it all clean and lubed.  After that initial session, I then clean and lube it fully (oil for my carry guns) and put a few hundred rounds of carry ammo through it.  At that point, I decide if the gun has any function issues, or if it prefers a certain kind of ammo.  Fortunately, neither is true (in my experience) of the Kahr CW series or the CT380.
Like most of the small .380s out there (and plenty of 9mms) the Kahr gives you a full two finger purchase on the grip, with your pinky floating in the breeze.  I don't rely on my pinky, for anything except bullseye competition (and only marginally so, there) so it fits perfectly.
According to Kahr Arms, my new .380 carries the following specs:
Capacity: 7+1
Operation: Trigger cocking DAO; lock breech; "Browning – type" recoil lug; passive striker block; no magazine disconnect
Barrel: 3.0″, Conventional Rifling, 1 – 16 right-hand twist
Length O/A: 5.52″
Height: 4.4″
Slide Width: .75″
Weight: Pistol 11.44 ounces (w/o magazine)
Grips: Textured polymer
Sights: Drift adjustable white bar-dot combat rear sight, pinned in polymer front sight
Finish: Black polymer frame, matte stainless steel slide
Magazine: 1 – 7 rd, Stainless
Notice the weight, which puts this pistol damn close to the Ruger LCP.  But, you get a more accommodating grip and one more round (extra rounds–always a good thing with a .380).  Comparing it to my Ruger LCP Custom, it's not much bigger, has a good set of sights, and fewer "pointy" parts, which make it nice for pocket carry.
The light weight of the CT380 makes it a nice carry gun when you don't have a lot of clothes on, with which to conceal your firearm.  Loaded with Hornady Critical Defense .380s, including one in the chamber, the thin Kahr weighs in at 15.4 oz:
About the only thing missing is a good set of night sights.  Kahr offers a front one for the CW9 (good luck finding it on their site, though!), but I have yet to see one for the CT380.  I think it might be possible to use the CW9 sight, so I will look into it.  I have one on my CW9 and will measure the height and mounting holes to see if it could fit.  Watch for the upcoming post!
Holster Giveaway
Since this post is happening right around Christmas, I thought we would celebrate by giving away FOUR holsters!  That's right, we will have 4 Lucky winners this round, as we give away BOTH VersaCarrys, followed by BOTH Sticky Holster.  Don't worry, I already placed orders for myself, to replace these four.  All you have to do is sign up on the website (unless you got this post in an email, in which case, you are already signed up) and we'll make the announcement in 4-5 days.  You then have 3 days to email us, or someone else gets lucky.  Good luck, Merry Christmas, Happy New Year, and thanks for reading!
–Hank






by