Check out our first DIY Video: Making Your Own Night Sights (aka Nite Sites)
After searching in vain for tritium night sights for my Kahr CT380, I decided to make my own.

Now these aren't actually "night sights" as we commonly know them.  In my book, a true night sight uses tritium tubes and they glow without exposure to light.  What we are making here are "glow in the dark" sights which must be exposed to light and then will continue to glow for 6 hours or so.  Given a choice, tritium is the way to go.  However, if they don't make tritium sights for your weapon, then these are better than nothing.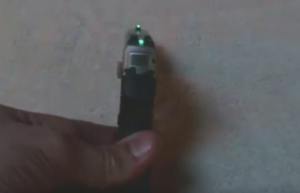 Let's say you are heading out to the movies or for dinner with your better half.  A 30 sec exposure to your pocket tactical flashlight (you do have one, right?) before you holster will set you up for hours.  I've come back home after 7 hours and the front sight is still readily visible.  Note that the Ruger LCP Custom comes from the factory with such a front sight and what I'm about to show you, works even better.
The paints used in this video are available from Glow Inc.
We are using their Night Sight Formula and their Ultra Green V10 (PTPG)
After applying, be sure to top coat with clear nail polish.






by